An ideal tool to create curated channels to enhance the passenger experience
Create and curate your own channels via simple drag and drop features  

Stream on-board events live and auto record to enhance and personalize your VOD catalogue  

Create safety videos for passenger or muster station videos for crew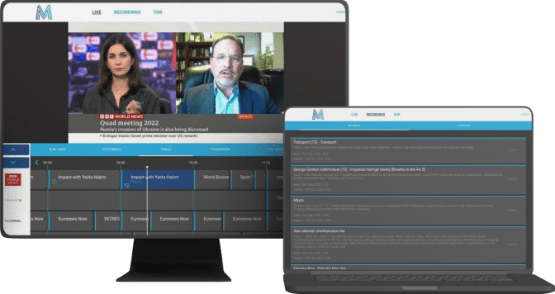 The Playout channel module offers many service possibilities…
a few examples include:  
Live Event Channel: create a dedicated channel around a special events such as a sporting event where the game start time is scheduled to automatically switch from related video clips to the live stream as soon as the game starts. 
Safety Video: ensure passengers are aware of the mandatory safety requirements via a simple, curated channel  
Near VoD: deliver VoD via a TV channel where movies are scheduled and played in sequential order. Ideal for RF network environments 
Ship Tracker: Stay up-to-date on journey progress at all times. 
Engage

with your audience 

Incorporate on-board streams, operator-produced videos, promotional video and even commercial content into a single, curated channel 

Whatever the message you want to get across, our solutions will help you create and stream content across all passenger devices and on-board screens. Creating promotional videos will allow you to engage, inform, and connect with your audiences.